It could be a new lesson in etiquette to teach the diners of tomorrow: put your camera away at the table. If the temptation to take out your phone to snap the incredible colour and architecture of the Michelin-starred meal you are about to demolish is too much, think again. You could be risking the chef's wrath—and, as we all know, chefs are dab-hands at wrath. Last year a number of esteemed French chefs threatened to ban cameras from their restaurants, with one, Alexandre Gauthier, of La Grenouillère restaurant in France's La Madelainesous-Montreuil, even putting an icon of a camera on his menu—with a line through it. They are not alone either. Heston Blumenthal's The Fat Duck in England has long discouraged the taking of photos by diners, without resorting to a ban, as has New York chef Daniel Boulud, with David Chang enacting a no-photography policy at Momofuku Ko.
Should photography be banned?
But the reasons behind these prohibitions are less clear. For some establishments, all the snapping is simply vulgar or a distraction to other diners who come to socialise and eat food rather than record it. Yet for others the reasoning is far more unexpected: much as art galleries sometimes prohibit photography because the flash can fade the paint, just as often it is because they are seeking to protect the owner's copyright. Or, as Gilles Goujon, chef at the three Michelin-starred L'Auberge du Vieux Puits, in Fontjoncouse in France, put it, photos "take away the surprise" of some of his dishes and "take a bit of my intellectual property".
In what is an increasingly competitive market, and one in which a chef's celebrity, reputation and signature dishes are as much draws to a restaurant as the quality of his cooking, maybe they are right to seek the same protection as those working in other creative industries. Maybe they are at the vanguard of a change in attitudes.
Ask Claude Bosi, a fellow Frenchman and the two Michelin-starred man behind London's Hibiscus, and he is quick to dismiss such talk, however, as "pretentious—if you feel that way about your recipes, why do cookery books, why go on TV? You'd best stay at home and just cook for yourself. People in this industry can take what they do too seriously. We're just cooks at the end of the day." Yet Bosi does admit to having had some sensitivity to the issue. When he was starting out up the olive oiled-pole to super-chef status, it would upset him to see his dishes appear on the menus of others.
"So it is, perhaps, a question of how established you are—then copying becomes flattering," he adds. "And while I don't mind diners taking pictures of the dishes for themselves, it does bother me when it's for publication online. But that's more about the way the dishes are presented, having been shot on a smartphone with the wrong lighting. Would I ever ban it? No. Restaurants should be all about pleasure—they're not churches."
Taking out a patent
Certainly, while it varies from country to country, in general the law, as it stands, is with Bosi. A disgruntled chef might have some hope in the US. According to Paul Keller, head of the intellectual property practice at New York law firm Allen & Overy, recipes are, in theory, patentable, "but where the rubber hits the road is the need to show that the invention, the recipe or plating up, is novel," he notes. "If a chef tells me they have the best beef bourguignon because they've added chocolate, combing through the recipes of the world will probably reveal that it's been done before. If you're doing something clever with, say, dry ice, perhaps you have a case for novelty.
"But those aren't the only challenges to someone going through the patent process—application means sharing the invention with the world, so one might be better to keep it as a trade secret," Keller adds, noting that this is more typically found with mass-produced foodstufs—think sauces or the 'secret recipe of 11 herbs and spices' used to coat KFC chicken. "And if you have a patent, then you have to prove it's been infringed—by an ex-employee taking your recipe to a competitor, for example."
It does happen: in one of the highest profile cases to date, Rebecca Charles, the chef behind New York's Pearl Oyster Bar, filed a suit against Ed McFarland, the chef behind the city's Ed's Lobster Bar. Charles was aggrieved not only by McFarland's alleged copying of every detail of her restaurant's design, but by the fact that his Caesar Salad, she claimed, used the recipe handed down to her by her mother, which she taught to McFarland on the condition he never use it elsewhere. McFarland maintains that the Caesar was his own recipe.
Shireen Smith, an intellectual property lawyer and founder of London-based Azrights, explains that in Britain a recipe as words on a page is protected as a literary work, but that isn't going to stop people cooking from that recipe. And as for the artful presentation of a dish? Sorry, that is insufficiently lasting to count. People, annoyingly, want to eat it.
A change in the law
"You need something fixed in more permanent form—and food is going to be moved around and eaten, of course," she says. "In contrast, once a painting dries, it's considered permanent. Making something out of snow wouldn't be considered sufficiently fixed either. Even a minor alteration to a dish would mean it would be considered a new dish." Smith draws comparison to the fashion world, one in which, arguably, copying is considerably more rife. "It's just accepted that copying happens—sometimes a design is registered, but really the protection that gives you isn't usually worth the effort," she adds. "And while new protections are introduced as and when required, I think it's unlikely that chefs will see a change in their legal situation."
Some argue that any change in the law might, in fact, be counter to the very culture of cheffery, especially at the élite level. Speak to some chefs and they argue that the very nature of the way they are trained—indeed, the very nature of the way cooking and dishes evolve—makes the protection of intellectual property something of a dead-end, if not a situation with all the intricacy and delicacy of cooking the perfect souflé.
That's the position taken by Ian Minnis, executive chef at Belmond Grand Hotel Europe, in St Petersburg. "When I think of my training, the chefs I worked with all had recipes passed down to them and we all worked by bouncing ideas of each other," he says. "It would be very hard for me to claim a dish as being mine—someone could always say they did it 20 years ago. The fact is that the industry is the people in it, not dishes written down and protected. And those people get ideas from all over: I have a huge collection of professional cookery books I refer to and even with those I think it would be hard for the chefs to sincerely take ownership of the recipes in them. Food isn't a song like that. It's part of the culture."
Indeed, perhaps one route to originality is to cut oneself of from outside influence, as Rudi Liebenberg, executive chef at Belmond Mount Nelson Hotel in Cape Town has tried. "Personally I have stopped buying books, as they had too much of an influence on my creative process," he explains. "The process of writing menus is something I have always loved—it is the start of a process of creativity. But the process became problematic when I realised my ideas were not original enough anymore. Subconsciously I was copying other ideas, unaware of the true origins. I do believe if you copy a recipe exactly to the last word, credit should be given, if you know its true origins and creator. But then how do we know if something is truly original?"
Clare Smyth, chef-patron of Restaurant Gordon Ramsay in London, is philosophical about the whole debate. "The question of intellectual property is a difficult one because in this business everyone is influenced by everyone else along the way. Nothing you cook hasn't been done before and it's arrogant to think otherwise," says Smyth. "And I'm just not bothered about diners taking photos—once you've cooked something and given it to them, it's theirs."
Help or hindrance to creativity?
Indeed, Smyth goes further to suggest that the protection of dishes in law might not only be unnecessary, it might actually hamper rather than defend creativity. "Food is moving forward so rapidly, especially in the UK, precisely because there's a much greater cross-pollination of ideas," she argues. "It's the sharing that is raising the bar."
And, in some cases, the over-sharing: two restaurants, 10,000 miles apart, were once in the spotlight for having the self-same dish on the menu. It transpired that chef Robin Wickens, of Melbourne's Interlude, had been on a research trip to New York's WD-50 and reproduced a dish back home without crediting the inventor. Research trips are what chefs call holidays.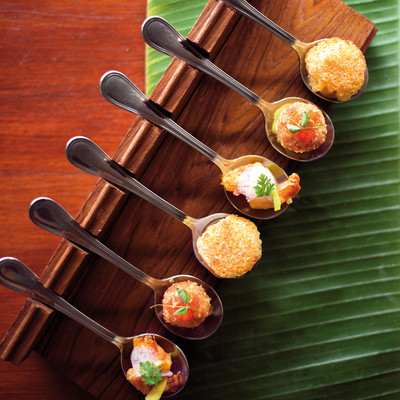 But still it seems that the issue is, like too much gravy on too small a plate, about to run over. Given the popularity of what has been dubbed 'food porn' and 'foodstagramming,' blogging is hardly likely to stop. "It has become one of the engines of what is now a vast foodie culture and introduces chefs and their work to thousands of people who wouldn't know about it otherwise," argues Rae Jones, of food and drink trends consultancy The Scof Report.
Furthermore, according to Charles Banks, co-founder of global food trends agency The Food People, one increasingly apparent direction for the future of top-end restaurants could well see them hiring great lawyers along with great kitchen staff. "I think we can expect to see more and more chefs seeking to own what they do. After all, chefs by their nature are quite controlling people," he jokes, "and you can see this debate starting to gather momentum. Restaurants look to become more and more about providing unique experiences, not just food, and experiences are more 'ownable'. How it would work I don't know, but this might make some form of legal protection for chefs' creativity more desirable."
Atul Kochhar, the first Indian chef to receive a Michelin star, agrees. He even strikes a word of warning—it could get very hot in the legal kitchen. "My recipes are my intellectual property—I do feel that," he says, "and it angers me when my dishes are copied outright; sometimes they don't even bother to change the name. There's this sense that you've built a house and now someone else is living in it. The creative work of chefs certainly seems to me to be an area that needs protection. We live in an increasingly cynical world. Combine that with the internet spreading information globally and my feeling is that it's set to become a bigger issue in years to come. It could get pretty nasty."
Continue the copyright debate over signature dishes by our featured Belmond chefs by booking an "around the world" Dining Experience at Belmond Grand Hotel Europe or a Celebrations package including dinner at Planet Restaurant or the Chef's Table at Belmond Mount Nelson Hotel.
by Josh Sims