New Year's Resolutions
An unexplored destination, a new skill, a hidden aspect of yourself… Make 2016 the year for discovery. Whatever your New Year's resolution, Belmond has fun and imaginative suggestions to help you stick to it in style.
Resolve to Get in Shape
The New Year brings new motivation. Make the most of the momentum and kick-start a new fitness regime in 2016.
Sticking to a workout plan can be demanding; make it easier on yourself and enjoy a health retreat to Belmond Maroma Resort & Spa. Perfectly positioned between verdant jungle and golden beach, it's a dreamlike slice of Mexican luxury where you can easily focus on your own wellbeing.
The resort benefits from a top-of-the-range fitness centre, equipped with the latest cardio equipment, kinesis stations and free weights. Personal trainers are readily available for private appointments, keeping you motivated or providing a personalised program to polish your routine. Continue to burn the calories with a selection of heart-pumping resort activities; from high-intensity tennis at the private courts and cycling along the jungle paths, to aquatic adventures such as snorkeling, scuba diving and kiteboarding. Unwind after your busy day with beachfront yoga, meditation or a traditional Temazcal sauna; the perfect way to purify for the year ahead. You'll return home feeling completely refreshed and radiant.
Resolve to Visit Somewhere Different
We live in a world filled with beauty. From ancient monuments and natural wonders to bustling cities rich with intricate architecture, visiting a new place can broaden your horizons and inspire you to make changes to the way you live your life.
With so many possible destinations, it can be difficult to decide where to go. So why not embark on a true expedition and visit several places at once? Belmond Journeys offer complete tour itineraries across South America, Asia, Europe or Africa—guaranteed to take you on an adventure like no other.
For the daring, we recommend Adventurous Peru, a seven-night itinerary that takes you to the most dramatic spots of this mystifying country. Begin with a stay at Belmond Miraflores Park, in the bustling capital of Lima, before heading to the Sacred Valley. Stay beside the roaring Urubamba River at Belmond Hotel Rio Sagrado, enjoying activities such as ATV safaris, white-water rafting and horseback riding. Continue along to Belmond Sanctuary Lodge, the only hotel located beside the ancient Machu Picchu citadel, and explore the enigmatic Inca ruins. Next uncover the mysteries of old-world Cusco while staying in Belmond Hotel Monasterio, a converted monastery dating back to the 16th century. In just eight days, you'll amass stories that will entertain friends for years to come.
Resolve to Learn a Skill
Few feelings compare to the satisfaction of picking up a new talent. Whatever your age or occupation, there is always time to learn a new skill and impress the people who have known you longest. For something truly original, why not head to the scenic town of St. Michael's in Maryland, where the riverside setting allows for a host of nautical learning experiences.
At Inn at Perry Cabin by Belmond, the area's premier luxury resort, we can arrange a complete itinerary that will help you become a sailing expert. Head down to Chesapeake Bay Maritime Museum and take part in an Apprentice Day program, showing you the skills needed to build your own boat by hand. Back at the hotel, head to the Sailing Academy where resident expert Captain Jason and his team will show you how to become a master of the waves. The two-day, three-day and five-day courses are all ASA approved, teaching you how to sail in one of the hotel's three luxury yachts.
Resolve to Enjoy More Family Time
It is all-too-easy to get wrapped up in our day-to-day lives and realise all too late the precious hours we are missing with our families. Whether it's your significant other, your children, your siblings or your parents, time spent together is time to treasure. In 2016, make a concerted effort to forego other commitments in order to strengthen the bonds with your loved ones.
Belmond's collection of iconic hotels in Italy all offer activities and facilities ideal for families travelling together. Whisk your little ones away to Belmond Hotel Splendido and Belmond Splendido Mare, located in the postcard-perfect town of Portofino. Spend your days boating through the crystal-clear waters, hiking through the rugged hills or getting up-close-and-personal with the marine life at the Aquarium of Genoa. Or for a city-based adventure, head to Belmond Villa San Michele located above ancient Florence. Savour a bird's-eye view of the timeless streets and piazzas during a thrilling hot air balloon ride, or cook up a storm with a gelato-making lesson at a nearby gelateria. However you choose to while away the days together, we guarantee countless memories to treasure.
Resolve to De-Stress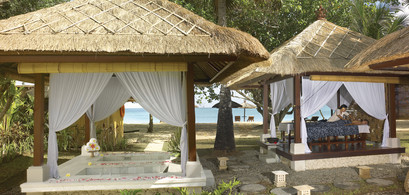 Leave your troubles firmly in 2015 and focus on finding harmony and balance this year. Make the journey to inner peace exceptionally easy with a beachfront retreat to Belmond Jimbaran Puri in Bali. Stretched along powder-soft sands, hemmed by turquoise waters and dotted by languidly swaying palms, there is no destination more conducive to rest and relaxation.
Awake to the sunrise and head to the beach or gardens for yoga, tai chi or meditation, balancing your body's energies and soothing your mind. Then find true indulgence at The Beach Spa. Recline in one of the open-air bales as our expert therapists work their magic and the lapping waves offer the most serene of soundtracks. The Best of Ayurveda spa ritual, including rhythmic aromatherapy massage and a session of traditional shirodhara, is guaranteed to leave you totally care-free.
Resolve to Make a Difference
For many, the festive season is a magical time where we relax in comfort, sharing food, presents and laughter in the warm company of our loved ones. At a time when it's easy to reflect on our own luck and blessings, it is understandable that in the New Year many wish to devote their time and energy to a noble cause and help those less fortunate. This year make it your mission to visit Cape Town, where there are a number of inspiring charities and social projects looking for an extra hand.
Belmond Mount Nelson Hotel is an iconic hotel at the foot of Table Mountain. As one of the city's most historic landmarks, the hotel does a great deal to help strengthen the city's community and maintain the local environment. Guests here can actively help with a number of initiatives the hotel supports, from assisting local micro-farmers of the Abalimi Bezekhaya organisation to attending a concert to help young children with their musical studies at the Hout Bay Music Project Trust. For those seeking to engage with more environmental issues, volunteer your time to work with endangered penguins and seabirds with SANCCOB. Alternatively opt for hands-on experience improving the city's urban greenery with Greenpop. Your contributions could help change lives.
The Perfect Opportunity
There are endless ways you can make a positive change this year, and Belmond's collection of iconic travel experiences provide the perfect backdrop. Now is the time to start planning your New Year getaway. With our exclusive Discover More package, travel between January and March 2016 and enjoy up to 20% savings on hotel stays and up to 30% savings on train and cruise journeys.
by Daniel Hayden